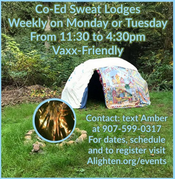 We host sweat lodges every Sunday! The fire ceremony starts around 10:30, and we will finish between 2 and 3pm, followed by a potluck. We are located 15 minutes from Duvall, Washington.
Our lodges are influenced by both the Lakota and Aztecan Temescal style for holding ceremony. We have a fire lighting ceremony to cleanse the rocks, the wood, ourselves and call in the directions. We invite everyone who wishes to participate to be present for the fire lighting ceremony to put your intentions in the fire.

Anyone is welcome to join, please text me to rsvp as space is limited. We ask for a $50 donation and participants will be asked to sign a liability waiver membership agreement found here. We are still in the process of adding contact forms and payment processing to our new secure version of our website, so we welcome you to reach out to us directly for more information and to register: alightenministries at protonmail dot com or text Amber at 425-470-0685 to rsvp.
All Dates
From

Monday, December 26, 2022

to

Sunday, December 24, 2023